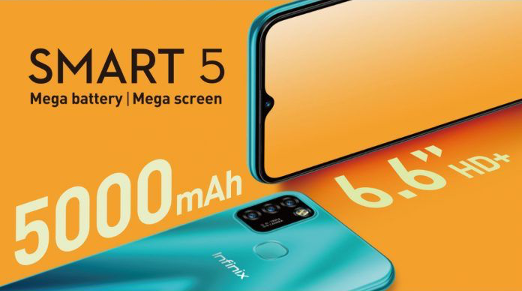 Lagos, Nigeria, August 14, 2020, Infinix launched a new Smart 5 smartphone into the smartphone market. The Infinix Smart 5 is an entry-level device which is designed to give young people access to cutting-edge technology at an affordable price. With 5000 mAh battery life, 6.6-inch HD+ waterdrop screen and 8MP selfie camera with dual flash, the smart 5 is only priced at #39,500.
Mega Battery-5000 mAh Battery for Long-lasting Fun
Young people spend long hours on their smartphones, this is why battery life is vital to them. With the large 5000mAh battery on this new device which could last for 4 days, coupled with an intelligent power-saving technology, users can enjoy their entertainment all day long without power worries.
Mega Screen-6.6-inch Waterdrop Sunlight Display, More View for What You Do
With a wide 6.6" HD+ vibrant screen, users will get a clear and broad view of every form of content on the Smart5. The device also comes with a 500nit sunlight display. Hence, the screen shows vivid vision when viewed under any type of sunlight condition.
Concerning the launch of the device, Infinix Managing Director, Benjamin Jiang said, "We were excited about creating this device for our younger targets. We understand that young people need access to advanced technology even though they do not have much purchasing power. So we created a device that offers them all the thrills of having a high-end device but at an affordable amount." He also added that "With a long-lasting 5000mAh battery in their hands, young people will be able to connect more with the world around them, learn more, and therefore, contribute more to society"
The Smart 5 comes with an array of smartphone features that young people will find invaluable.
Perfect selfies every time – 8MP selfie camera together with Intelligent Beautify Algorithms to bring out your unique beauty
Here is the great news for the selfie lovers. The 8 MP front camera on this device features automatic retouching to deliver perfect photos at all times. With Selfie focus and dual flash, you get a gentle background blur that makes you the star of the picture. Also, the new beautify algorithm makes every selfie photo impeccable. The Smart 5 brings more intelligent ways to customize your own beauty style such as 3D face improvement to make selfie photos more natural and unique
For the rear camera, regardless of the sunlight or low light condition, the Infinix  Smart 5 13MP dual camera offers clearer, brighter and more beautiful photos effortlessly at all time.
More than watching-Superior Sound Anywhere
 Except for the mega screen and photography, there is one thing that young people also care much about. The millennials always wear earphones, they are always listening. To meet the need for rich audio output, the Smart 5 comes with an advanced sound technology, DTS audio processing, which provides you with a mobile theater-like experience. The enhanced audio through Smart 5's speaker includes stereo sound and a deeper base that you can enjoy and customize anywhere based on your preference.
Always Online to Protect Your Privacy-Smart Keys for Double Security
Everyone, especially the young people, focuses on protecting their privacy nowadays. The smart 5 provides various ways to guard your privacy. Experience the most convenient phone security option when you set up facial unlock. The facial unlike feature on the Smart 5 has been optimized to avoid accidental unlocks making it more secure. Other security options on the Smart 5 include fingerprint and password. The fingerprint unlock option is quite safe especially during the COVID-19, since you do not need to take off your facial mask.
Brand new XOS 6 to Add Delight into your smart life-Easy, Exclusive and Exceeding
Other than all the functions updated above, the brand-new operating system XOS 6 brings revolutionary changes with its new exciting features. Customize your phone to your taste, get access to trendy features such as Dark Theme and Android 10 Gesture Navigation.
The Smart 5 comes with 2GB+32GBROM which is expandable by a micro SD card. The device is available across all authorized smartphone vendor outlets in Nigeria and can also be purchased online at https://ng.xpark.com.
For more information, Kindly visit Infinix's social media pages @Infinixnigeria or visit their official website www.infinixmobility.com/ng.
About Infinix
Launched in 2013 and targeting the young generations, Infinix Mobile is a premium online-driven smartphone brand. With "THE FUTURE IS NOW" as the brand essence, Infinix aims to allow consumers to stand out in the crowd and to show the world who they really are. Infinix is committed to providing the most cutting-edge technologies, bold and stylish designs, keeping consumers on trend and up-to-date. Infinix's portfolio spans five product lines – ZERO, NOTE, HOT, S, and SMART; empowering users to own innovative technologies and experience intelligent lifestyles! Infinix has a presence in more than 40 countries around the world, covering Africa, Latin America, the Middle East, Southeast Asia and South Asia. For more information, please visit: http://www.infinixmobility.com/
AUTHOR
follow on twitter @tyler_TX and like on facebook @ facebook.com/tooxclusive
Source: tooXclusive