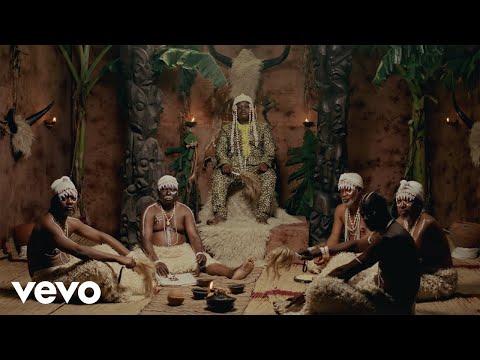 CASH NATION releases a new music video for the track 'Ashe She' delivered by its lead act, Barry Jhay.
Off the Barry Back EP, Barry Jhay returns with the visuals to his hook-laden track "Ashe She". This song which comes with a spiritual vibe was produced by TeeY Mix. The singer implores everyone to look up to God and call on him during difficult situation. Cos he will surely answer.
Listen, Watch and Enjoy!
[youutbe]https://youtu.be/8HTNWO4BF18[/youtube]
LYRICS
Tori mo mowipe Ashe she
Ohhh, tin ba ji lo'wuro
Mo ma n gbadura
Kori mi gbe ko mi oh
Unto say, I know say
Tori mo mo wipe, ashe she,
Oh nana
B'ota gbogun, bo binu, oh e
Mo mo pe olorun n'be leyin mi oh
And anything wey I lay my hands on
Moni mo mo wipe ashe she
L'ola Oluwa, ani bo she fe ore
Gbogbo nkan temi tire, ashe she
Boba n gbadura, e go be,
O ni te, O ni ti,
Gbogbo nkan laye ta wa, ashe she
Brother shey you know say prayer be the master key
If you no get God oh, believe me you no pass nothing (Ah ah eh)
E ni to ba debe lo le so se oh (Ah ah eh)
E ni to ba mo sha lo le shalaye oh
But if you call to me he will catch you shomo, oh oh
If you call him, he go answer shogbo oh
Hold on to him
He never lets go oh oh
He's gonna let the light in you show oh oh
B'ota gbogun, bo binu, oh e
Mo mo pe olorun n'be leyin mi oh
And anything wey I lay my hands on
Moni mo mo wipe ashe she
L'ola Oluwa, ani bo she fe ore
Gbogbo nkan temi tire, ashe she
Boba n gbadura, e go be,
O ni te, O ni ti,
Gbogbo nkan laye ta wa, ashe she
So you do good, do you, do bad oh
Omo araye no won know, dem must to talk oh oh
Anything wey you dey do my brother
Better do good oh 'cause na wetin go pay you
B'emi ba fowo kan iseti aso re oh,
Ara mi yo ya, gaga
B'emi ba fowo kan iseti aso re oh,
Ara mi yo ya gaga, gaga
B'ota gbogun, bo binu, oh e
Mo mo pe olorun n'be leyin mi oh
And anything wey I lay my hands on
Moni mo mo wipe ashe she
L'ola Oluwa, ani bo she fe ore
Gbogbo nkan temi tire, ashe she
Boba n gbadura, e go be,
O ni te, O ni ti,
Gbogbo nkan laye ta wa, ashe she
Source: tooXclusive