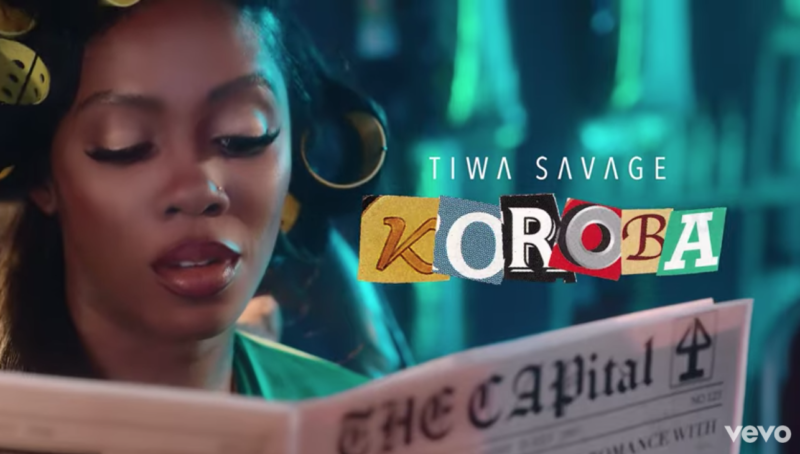 The metamorphosis from caterpillar to butterfly is a beautiful transformation that has always fascinated humans.
How it goes from a land-based insect to an airborne beautiful fairy is an excellent example of change and development. This is the case for Tiwa Savage, The African Bad Girl.
Tiwa Savage keeps maturing in her music just like how she ages backwards. For the singer, it's not just about the beat and vibes anymore, it's graduated to a much deeper level and she is exhibiting in her art, that meaning and message are of importance. In her latest single "Koroba " which is off her forthcoming album "Celia,' shows she's hell-bent on using music to create awareness for situations that have been normalized but shouldn't be happening things we overlook. It also is directed at exposing Nigeria's socio-political ills and corruption.
 "Koroba" in Yoruba means "Bucket" so Tiwa is literally saying, "Carry your bucket,". It's is also a popular slang which is used by hawkers in an open market. On the Afrobeat tune which was produced by London, Tiwa made sure to deliver her best vocals and a groovy vibe. It starts with a whistle that gives vibes similar to the sound used in the 1966 movie "The Good The Bad & The Ugly". The near 3-minute track also has catchy lyrics that are easy to remember.
Although it might seem like another groovy track we can vibe to again but taking a deep look at the lyrics, it is evident that the singer is addressing the unsavory relationship between Nigerian politicians and younger women in the society. The many experiences of women labelled as escorts girls (Runs girls)
Lyrics Explained
In this first verse, Tiwa lays it out plain and simple- she's not in this life to suffer, who doesn't like enjoyment? Tiwa says if she tries to date a politician, the media will pick the story and her naysayers will label the act as prostitution. She claims that what she will be doing as a politician's woman is to get her own share of the national budget.
I no come this life to suffer, If I follow politician, You go hear am for paper, Them go call am, prostitution, Who no like enjoyment?, If money dey for pocket, Shebi na National budget e o?, We go blow am like trumpet
Tiwa puts herself in the shoes of a woman dating a politician. After a night of having fun under the sheets, the politicians says he has his eyes all over her because she has the tendency to steal from him as most professional escorts do. She retorts telling him he is also a thief that has stolen millions he never worked for from the masses.
He say Darling i'm watching you, Small thing you turn mugu, You come dey shout ole, The money you no work for,Bad commando,You carry overload,Yawa dey, Igboro, Sho wole ko wole
In the last verse, she tells him to pay for her services as he is a politician that is spending what he never worked for.
I no mean to bother you, at all, Monkey dey work bamboo dey chop, Kilamity tell me, say you talk and do oga, Tell me wetin you fi do (do, do), I no mean to bother you, at all, Monkey dey work bamboo dey chop, Kilamity tell me say you talk and do oga, Tell me wetin you fi do
Tiwa has addressed this topic in her first single of 2019 "49-99" where she paid homage to Fela Kuti and also highlighted Nigeria's hardships. The track inspired by Fela's 1978 album, "Shuffering and Shmiling," sings about the rich get richer and the poor get poorer in Nigeria. In its striking visuals, Tiwa threw heavy shots at Nigerian politicians that like to prey on younger women instead of working to make the country better.
Another Angle
There is so much symbolism in its video directed by renowned director, Clarence Peters. It begins with Tiwa Savage playing the role of a newscaster giving the news that she (Tiwa Savage) is in the news again.  Tiwa Savage is at the "Amebo Salon"-  headquarters for carrying home a basket of gists and gossip. The news of her romance with a politician pops up and tongues start to wag.
Upon seeing the commotion, Tiwa throws out wads of dollars to the hairdressers and once she leaves, there's commotion everywhere. This is simply saying that she knows her love life is what everyone put their nosey noses in. Knowing that she is a big celebrity, Tiwa knows her name is always going to be in the news for the wrong and right reasons but she doesn't care.
On an ending note, one can help but notice how Tiwa Savage's sound has flourished. She makes music that you can turn up at a club with and also enjoy during a quiet time. Her previous track "Dangerous Love" which shows how love is a risky adventure, a blend of excitement and yet uncertainty and fear is another wonderful tune. With "Koroba," you're not just listening and dancing but your mind and head are involved. 
This is an indicator that we are going to get more eye-opening content on her forthcoming album " Celia". An album that not only causes fans to sit and think deeply, vibe to but also shows the beauty and unity of Africa unapologetically as she always preaches. Fingers crossed as we can't wait to see how much growth she has experienced as an artiste. 
Rating 3.9/5
AUTHOR
Olaosebikan Olabimpe is a News Writer and Content Creator at Tooxclusive.
Her idea of a great day is to be indoors snuggled up with a book and good music.
She is also a passionate lover of rap.
Source: tooXclusive