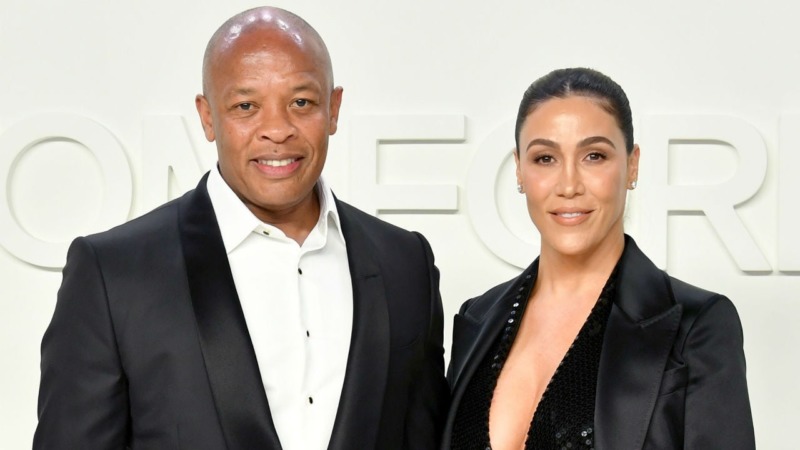 Dr. Dre's wife, Nicole Young is fighting for a share of Dre's billion-dollar fortune despite signing a prenuptial agreement. 
It would be recalled that a few months ago, Nicole filed for divorce from the rapper and businessman a few months after their 24 wedding anniversary.  The two tied the knot in May 1996 and recently celebrated their 24th wedding anniversary. Nicole filed the paperwork citing the usual irreconcilable differences as the reason for her split from the 55-year-old hip-hop mogul. The estranged couple share two adult children, son Truice and daughter Truly.
According to reports,  Nicole is not getting divorced without fighting for a share of the rapper's billion dollar fortune, despite signing a prenuptial agreement with the Hip-Hop mogul. In the filings, she asked for spousal support, a share of his estate, and division of his wealth as they didn't sign any prenup.
Dr. Dre, days later responded to Nicole's filings with his own legal documents showing that he and Nicole signed a prenup before they married. Now a new report from TMZ says Nicole Young is challenging their prenup as Dre's $1 billion is on the line. According to TMZ, Nicole claims she was pressured and forced against her will to sign the documents in 1996 and Dre tore portions of the documents after feeling ashamed that he made her sign the documents.
The report reads;  ''Nicole says Dre is now worth $1 bil, and says before they tied the knot, "I was extremely reluctant, resistant and afraid to sign the agreement and felt backed into a corner. Given the extraordinary pressure and intimidation by Andre, I was left with no option but to hire a lawyer (of course, with the help of Andre's team of professionals) and unwillingly signed the agreement very shortly before our marriage."
She then says 2 years into the marriage, "Andre acknowledged to me that he felt ashamed he had pressured me into signing a premarital agreement and he tore up multiple copies of the agreement in front of me. Since the day he tore up the agreements, we both understood that there was no premarital agreement, and that it was null and void."
However, sources connected to Dre say he never expressed shame over the prenup and he never tore it up or said it was invalid. It was also reported that Nicole had her own lawyer and she had a clear choice on whether to sign or not.
"Our sources say Dre has made it clear … he will pay spousal support and all her expenses, but clearly Nicole wants a big piece of the pie, claiming he amassed most of his fortune during the marriage. Nicole is asking the judge to separate the divorce from the prenup issue, but it looks like a fight is brewing"
AUTHOR
Olabimpe O
Olaosebikan Olabimpe is a News Writer and Content Creator at Tooxclusive.
Her idea of a great day is to be indoors snuggled up with a book and good music.
She is also a passionate lover of rap.
Website
Source: tooXclusive