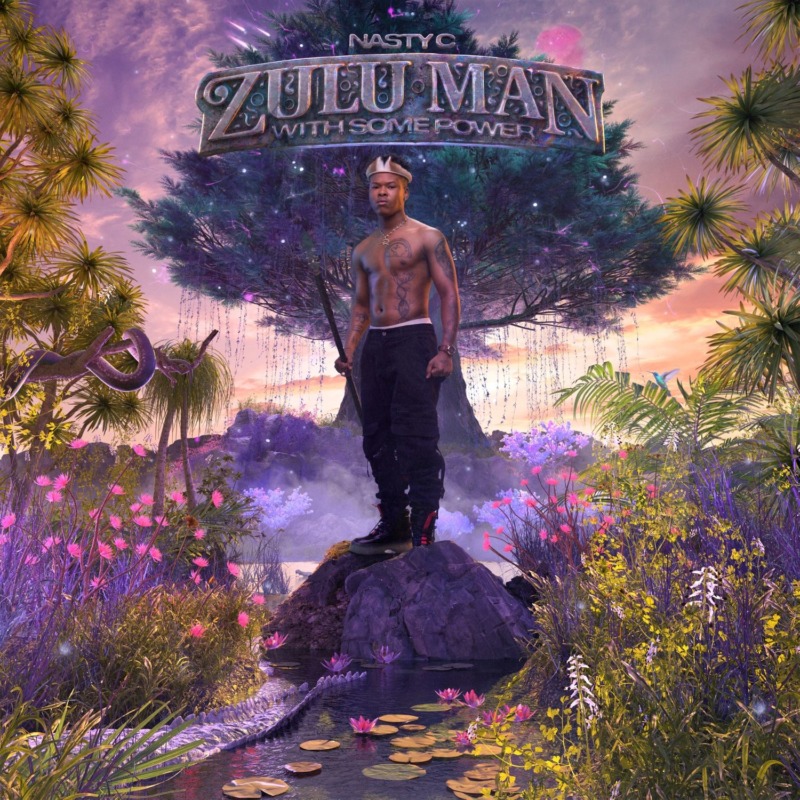 Nasty C delivers "Zulu Man With Some Power" Album today 28th August, 2020… just as promised.
South African rapper Nasty C folds a plethora of influences into his trap sound on Zulu Man With Some Power. Delivering witty lines between melodic turns and bass soundscapes, the Durbanite deftly taps into his heritage while pushing past stereotypes.
Nasty C – "Zulu Man With Some Power" album consists of 20 tracks with feature from T.I, Rowlene, Tellaman among others.
Listen and Enjoy!
"In this modern world people shy away from their roots," he tells Apple Music. "I wanted to make it cool for people to say, 'I'm Zulu, Xhosa, this or that' again—to take pride in it." He talks us through each track on his album below.
King Shit
"When I was making this beat, it felt like the introduction to something. It felt like you were about to take a dive into something."
Steve Biko
"As artists, we have a social responsibility to speak about things and put our legends at the forefront while shining a light on them. I like to just throw it in there—that's what I feel could be our power as artists."
That's Hard
"This is such a rude beat…it's so audacious. I don't think it's a typical trap beat and it's got a lot of weird noises going on—I like that about beats 'cause it makes me go crazy. You have these nights, but they don't come every single night. This is one of those moments where you pat yourself on the back as an artist."
Overpriced Steak
"The line, 'I talk like this 'cause I listen to Weezy every day' was just about the question I get asked the most: 'Why do you sound like that?' Some people say it in a very subtle way and others just ask dead-on. I'm answering that question."
Feeling
"This was a very catchy way of telling people to believe in themselves. I'm always trying to tell people to follow their gut because I did and it worked out for me."
La Vida Loca
"I freestyled this whole song, actually. It's definitely one of my favourites…it's way too saucy. My previous album was titled Strings and Bling—guitars and jewellery. I have a specific love for guitars, I don't know what it is!"
Zone (feat. Tellaman)
"'Zone' is about a girl that could be such a nice person if she just made a bit of effort."
How Many Times
"This was one of those moments where everything was going so good and I felt like I was living a dream. I just started thinking about all the people that told me to my face this thing wouldn't work. Some of them didn't even believe what they were saying…they were just trying to bring me down. I never let that affect me and I just wanted to capture that in a song."
Eazy
"This sounds like something we would have done in my choir. I was trying to do something. I wanted it to sound very South African and it sounds authentic to me so it's perfect."
All In (feat. T.I.)
"This is to help me keep my faith up and to have everyone who's listening do the same. When I feel like I'm down, these kind of songs sort of bring me back up."
Lose Some, Win Some
"I think as guys, we're really lacking: we don't tell our friends what they need to hear and sugarcoat a lot. I'm saying it's not fair that I'm backing people and when we fall, I'm the only one that gets injured—they just get up and dust themselves off."
Sad Boys
"'Sad Boys' is about the people that regret what they did to me way back then. I've got a couple of those. They're showing their regret now and it's just sad!"
Black and White (feat. Ari Lennox)
"Ari was one of the people that had heard about me and was interested in working. I already had this song in the bag so I just put her on it and she was perfect. My relationship is eight years old. It's no joke, so I get to write from all these different perspectives. I could do anger on anger, or I could do 'Black and White' where I sound like I'm still chasing my girl."
Deep Pockets (feat. Rowlene)
"This is just one of those rapper songs that just changes into this very trippy ballad out of nowhere. I thought it would be nice to have another flavour of something South African here."
Bookoo Bucks (feat. Lil Gotit & Lil Keed)
"This is just stunting, just some rap shit—I was just going off with no pen. I made this song in Atlanta with one of Atlanta's biggest producers, ATL Jacob. The song was done for the longest time and I don't know who made the connection but I was like, 'Gotit and Keed are also from Atlanta so why not put them on this?'"
Palm Trees
"LA matches everything on the pamphlet. It's really what I thought it would be. I always wanted to go and when I was finally there it really felt like what I wanted it to."
Zulu Man
"I just wanted to do the whole rapping in Zulu thing when I wanted to. If I had dropped this two years ago there wouldn't have been a story to it or no backbone to that story. I'm talking about how I grew up, how I would have gotten into trouble if my father knew what I was doing and how I always knew that God loves each and every one of us in the same way."
Ababulali
"It was me doing the leading vocals but I didn't know what I was doing! I went into the studio and tried to create something I'd never done before. Something new. It's really just me talking to my father, acknowledging him and paying him respect. I always had a very rocky relationship with him but now we're good. Now I'm all grown up so I can see that he also had it tough."
There They Go
"Between Joburg, LA and Japan, I had to rerecord this song six times! When my fans received it the way they did and it went viral, it surprised me."
They Don't (feat. T.I)
"I'd always seen videos of the racial issues they have in the States but I'd never really done my own research. I did my research and it just sent me to a sad place, 'cause it happens everywhere in the world. I had to make a song to feel better about it, but also for other ears to heal from it hopefully."
Source: tooXclusive