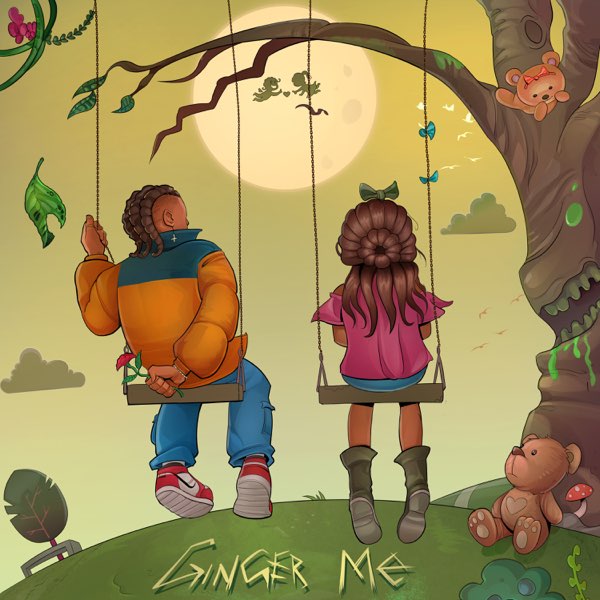 Featuring Rema, Wizkid, Mayorkun, Tiwa Savage, Omah Lay, Adekunle Gold, Wande Coal, Naira Marley, Davido, and Burna Boy. Music is a form of escape, it takes us back in time to reflect on the present, past, joys, and offers serenity. As the news about the coronavirus and other disasters continued, songs seemed to be gifted during difficult times.
Its the end of the month of July and we have compiled 14 best Nigerian songs that came out of the buzzing Nigerian scene that helped ease minds in these trying times. From bopping songs about loving women to songs that would make you smile, we've got you covered.
1 Rema – "Ginger Me"
This track is still buzzing even without a music video and this list would be incomplete without it. "Ginger Me" is a soul, pop, afro-Indie jam produced by The Element. It's a love song that sees a young boy putting his bad-boy behavior/swag aside to confess his love feelings to the lady that hypes his system. It's got a catchy chorus; one of those songs you don't realize when it ends because it keeps playing in your head. This one is a sure banga!
2. Mayorkun – "Betty Butter" ft. Davido
Inspired by his conversation with Davido about women, money, and social media, Mayorkun released this mid-tempo Afro-fusion track filled with lots of word-plays and infectious lambas. It's received millions of streams and is one of the most used songs used for thriller and Tik Tok videos. It's a fun track that you would love to vibe to.
3. Rema – "Woman"
Rema's "Woman" is still topping charts. After declaring love for one woman in "Ginger Me," he puts on his bad boy cape and sings about loving plenty of women. He can't seem to make up his mind and he keeps on switching it up in every track. Well, get ready to put on your dancing shoes for this track because Rema came through with some kind of crazy spiritual vibes. An interesting feature of this track is the catchy phrases like "Asampeteprokotomakule" and "Sa koloweko". Get ready to put on your dancing shoes to this bopping sound.
4. Omah Lay – "Bad Influence"
With just a few tracks to his name, Omah Lay is still capturing the hearts of millions of music lovers. The singer who writes and produces most of his records came through with the infectious "Bad Influence" and is arguably the next big thing in the music industry. The song which is still receiving massive streams is about a love story that ended in tears. Omah curses his lover for being a bad influence on him and also for leaving him lonely and bitter. This is one experience most people can relate to which makes it more exciting to listen to.Its another track that is still receiving positive attention from fans.
5. Adekunle Gold – "Something Different"
#5 Nigerian Songs Of July,  Everyone's baby who recently got his own baby switched genres with the release of "Something Different". The track produced by Blaize Beats sees Adekunle woo his lover in a more gentle and sexy manner. The tune is a blend of highlife and Afropop with a dash of highlife and jazz. The beat accompanied by trumpets and Saxophones is one sound that the eastern folks can relate to and can also be enjoyed by all. Despite its release a few months ago, this track is still climbing charts.
6. Master KG – "Jerusalema" Remix ft. Burna Boy
South African Buzzing recording artiste, Master KG teamed up with Nigeria's Afrobeat monster, Burna Boy for the remix of the hit Song 'Jerusalema', after the huge success of the track with over 26 million views on Youtube. The original version had multi-talented vocalist Nomcebo Zikode (who is known for blessing records with sweet vocals), Burna came in with the Afro-fusion genre, talked about not be perfect and he strives to survive in the jungle.
7. Naira Marley – "As E Do Go"
Produced by Rexxie, this is another street anthem for the Marlians and so far it has been the go-to music for users of Thriller and Tik Tok and other social media platforms. Similar to his hit track "Aye," Naira Marley talks deep about life and incorporates his popular slangs, 'Inside Life' and 'Mafo'. This track also comes with a dance step tagged the Wuge Dance that currently loved by both young and old. It's a must-listen if you want to connect with your groovy side this week.
8. Omah Lay – "Lo Lo"
The colourful and captivating visuals to this track off Omah Lay's "Get Layd" debut EP recently hit a million views and fans are super ecstatic. The already buzzing track sees the singer wanting to give his lover some good loving. Omah sounds like a pleasant mixture of Wande Coal, Wizkid, and Burna Boy all joined together. The beat, arrangement, and lyrics of this track is astounding and you'll certainly love this." I just wan lo lo"
9. Wande Coal – "Again"
#9 Nigerian Songs Of July, Mr W returned to the music scene with a track that offers a nice change of pace that will most likely make you want to sing along. The singer talks about his undying feelings for his lover, infusing his melodious rhymes to express his profound love for his girlfriend. Wande Coal's sonorous voice on the song was quite exceptional and clearly unrivalled.
10. Wizkid – "Smile" ft H.E.R
We don't need to say much about this track because it's definitely going to make you smile. In Wizkid's usual fashion, he vows to make his woman smile. The track simply speaks of unconditional love and the things we do for it. He wasn't alone because the sultry and smooth vocals of Grammy award-winning singer, H.E.R added more flair and vibe to the already infectious beat. The track is off his highly anticipated album "Made In Lagos"  which is expected to drop later in the year.
11. Burna Boy – "Wonderful"
Burna Boy has been preparing his fans for his forthcoming album "Twice As Tall" and so far this year 2020 he has released 'Odogwu'. "Wonderful" is a fun filed track meant to brighten up your day. This record produced by Telz is a perfect blend of the Afrobeat and the South African Zulu sound. It sees Burna Boy remembering, dwelling on his African roots as a place of peace, relaxation, a place to call home, and an environment of good vibes enriched with sounds and indigenous gbedu that would hit the mind and soul.
12. Davido – "D & G"
Off his "A Good Time" album sees Davido and American singer, Summer Walker serve it hot while clad in the luxury designer brand, Dolce & Gabanna for its visuals. Its expensive-looking visuals that would make you probably steal your money is still racking up streams locally and internationally.
13. Kizz Daniel – "Boyz Are Bad"
13th on Nigerian Songs Of July, The tantalizing track off his newly released "King Of Love" album is centred on one of the issues people in romantic relationships face – insecurities. Love is hard and yet at the same time so simple. Kizz Daniel understands these feelings and did well in putting it all into laid back tracks filled with a few funny lyrics. Kizz Daniel is overprotective of his extremely attractive lover and warns her about the bad boys.
14. Tiwa Savage – "Dangerous Love"
"Dangerous Love" is a laid back tune by the number one African Bad Girl, Tiwa Savage which has elements of R&B and Afrobeats seamlessly coming together for an enjoyable track. The sensual music video also dropped just a week ago has amassed over 1 million views on YouTube in just 5 days and is one of the biggest hits released this month.
AUTHOR
Olabimpe O
Olaosebikan Olabimpe is a News Writer and Content Creator at Tooxclusive.
Her idea of a great day is to be indoors snuggled up with a book and good music.
She is also a passionate lover of rap.
Website
Source: tooXclusive